Bestow Beauty Powder contains eight super-foods which are rich in the nutrients your skin and body needs to produce anti-ageing structures like collagen and elastin. It's like an anti-ageing serum you take from within!
Bestow Beauty Powder is perfect for those looking to enhance both their skin and overall health. This specially crafted supplement is ideal for promoting a clear, luminous complexion, reducing skin inflammation, and supporting skin hydration and elasticity. Simultaneously, its nourishing blend of vitamins, minerals, and antioxidants aids in boosting overall well-being, providing essential nutrients for optimal body function and vitality.
Regular price
Sale price
$60.00 NZD
Unit price
per
Sale
Sold out
Dairy Free

All Bestow products are dairy-free (and vegan) unless stated otherwise. Bestow Collagen Boost Powder is made from fresh-water fish, Bass so is not vegan.
Gluten Free

All Bestow products are gluten free.
Nut Free

All Bestow products are nut-free, unless stated otherwise. Bestow Gut Love + contains Almonds.
Made in NZ

Bestow is a natural range of organic skin nutrition boosters formulated by New Zealand's leading dermo-nutritionist, Janine Tait. Each product is carefully created right here in Aotearoa, New Zealand.
Share
View full details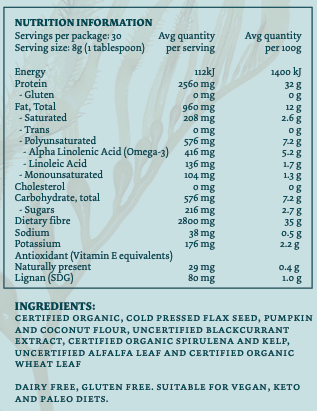 Who is this product for: Bestow Beauty Powder is a practical and powerful way of addressing nutritional deficiencies which undermine our skin and overall health. This hearty greens powder is perfect for those looking to add a big, healthy dose of greens into their day in a quick and convenient way.
Bestow Beauty Powder
Bestow Beauty Powder is a powerhouse supplement designed to nourish your skin and body from within, promoting a radiant and healthy complexion. Packed with a blend of nutrient-rich ingredients, this exceptional powder supports skin function and overall well-being.
This beauty-boosting powder features a potent combination of flaxseed, kelp, spirulina, wheatgrass, and other plant-based superfoods. These ingredients are rich in vitamins, minerals, and antioxidants, offering a comprehensive range of skin-enhancing benefits that your body craves.
By incorporating Bestow Beauty Powder into your daily routine, you can experience the transformative effects of improved skin texture, enhanced hydration, and a youthful glow. This nourishing supplement also helps to soothe inflammation, reducing redness and promoting a clearer complexion.
Bestow Beauty Powder is a must-have!. With its wealth of nutrients and goodness, this powder supports your skin's vitality, helping you look and feel your best from the inside out.
IMPORTANT INFORMATION:
How to take your Bestow Beauty Powder:

Take one tablespoon of Bestow Beauty Powder every day, mixed into food, juice or water. To maximize the benefits, you need to take Bestow Beauty Powder everyday. Taken in conjunction with Bestow Beauty Oil it also supports the formation of a resilient, protective outer layer for the skin, which protects the vulnerable layers beneath from the ageing impact of environmental threats.
Is this product pregnancy safe?

From our perspective, all Bestow products are safe for pregnancy and breast-feeding and help to enhance the health of both mother and baby during this important, formative time.

However, it is our recommended best practice that your clients first check with their own doctor or midwife before taking Bestow products.