Your new favourite red powder! Bestow Berry Beautiful helps win the fight against premature ageing caused by free radicals!
Bestow Berry Beautiful is an antioxidant-rich supplement to promote skin radiance, combat oxidative stress, and support collagen production, resulting in a youthful and glowing complexion. Moreover, its potent blend of vitamins and minerals nourishes the body, boosts immunity, and aids in overall wellness, making it an excellent addition to the daily routine.
Regular price
Sale price
$90.00 NZD
Unit price
per
Sale
Sold out
Dairy Free

All Bestow products are dairy-free (and vegan) unless stated otherwise. Bestow Collagen Boost Powder is made from fresh-water fish, Bassa so is not vegan.
Gluten Free

All Bestow products are gluten free.
Nut Free

All Bestow products are nut-free, unless stated otherwise. Bestow Gut Love + contains Almonds.
Made in NZ

Bestow is a natural range of organic skin nutrition boosters formulated by New Zealand's leading dermo-nutritionist, Janine Tait. Each product is carefully created right here in Aotearoa, New Zealand.
Share
View full details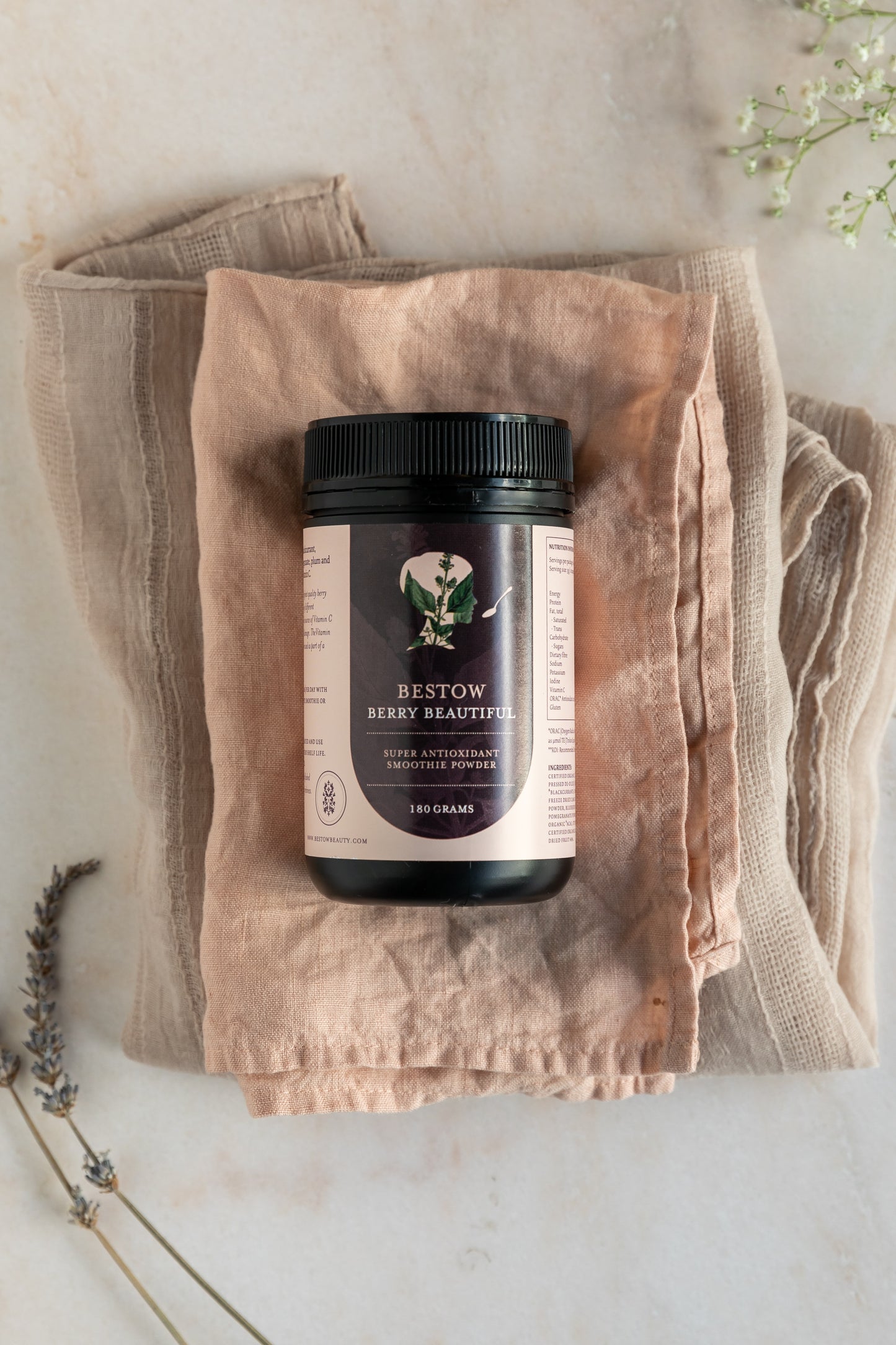 Who is this product for: Bestow Berry Beautiful is a practical and powerful solution for tackling nutritional deficiencies that can compromise both our skin and overall health. This vibrant berry supplement offers a convenient and efficient means of infusing our daily routine with a rich blend of antioxidants, essential for promoting skin radiance and combating oxidative stress.
Bestow Berry Beautiful
Bestow Berry Beautiful is a delicious red powder enriched with a vibrant blend of antioxidant-rich berries. This unique formula harnesses the power of nature's colorful bounty to nourish your skin and support overall well-being.
Packed with blueberries, blackcurrants, and acai berries, Bestow Berry Beautiful is a rich source of vitamins, minerals, and polyphenols. These potent antioxidants help combat free radicals, reducing oxidative stress and support a healthy, glowing complexion.
By incorporating Bestow Berry Beautiful into your daily routine, you can experience the transformative effects of improved skin tone, increased luminosity, and a revitalised appearance. This beauty powder also supports your body's natural detoxification processes, contributing to clearer and healthier skin.
Bestow Berry Beautiful is an essential addition to your beauty regimen, providing a delicious way to care for your skin from within. Embrace the power of berries and reveal your inner radiance with Bestow Berry Beautiful.
IMPORTANT INFORMATION:
How to take your Bestow Berry Beautiful:

Take one teaspoon of Bestow Berry Beautiful every day, mixed into a smoothie or yoghurt. To maximize the benefits, you need to take Bestow Berry Beautiful everyday. Taken in conjunction with Bestow Beauty Powder for a daily shot of greens and reds!
Is this product pregnancy safe?

From our perspective, all Bestow products are safe for pregnancy and breast-feeding and help to enhance the health of both mother and baby during this important, formative time.

However, it is our recommended best practice that your clients first check with their own doctor or midwife before taking Bestow products.