Your skin craves Essential Fatty Acids (EFAs) to flourish, and our Beauty Plus Oil offers a potent source of EFAs for both skin health and overall wellbeing.
New to Bestow? The Bestow Beauty Plus Oil Sample is the ideal starting point for your skin health journey. With three and a half days worth of product in one sample.
Regular price
Sale price
$10.00 NZD
Unit price
per
Sale
Sold out
Dairy Free

All Bestow products are dairy-free (and vegan) unless stated otherwise. Bestow Collagen Boost Powder is made from fresh-water fish, Bass so is not vegan.
Gluten Free

All Bestow products are gluten free.
Nut Free

All Bestow products are nut-free, unless stated otherwise. Bestow Gut Love + contains Almonds.
Made in NZ

Bestow is a natural range of organic skin nutrition boosters formulated by New Zealand's leading dermo-nutritionist, Janine Tait. Each product is carefully created right here in Aotearoa, New Zealand.
Share
View full details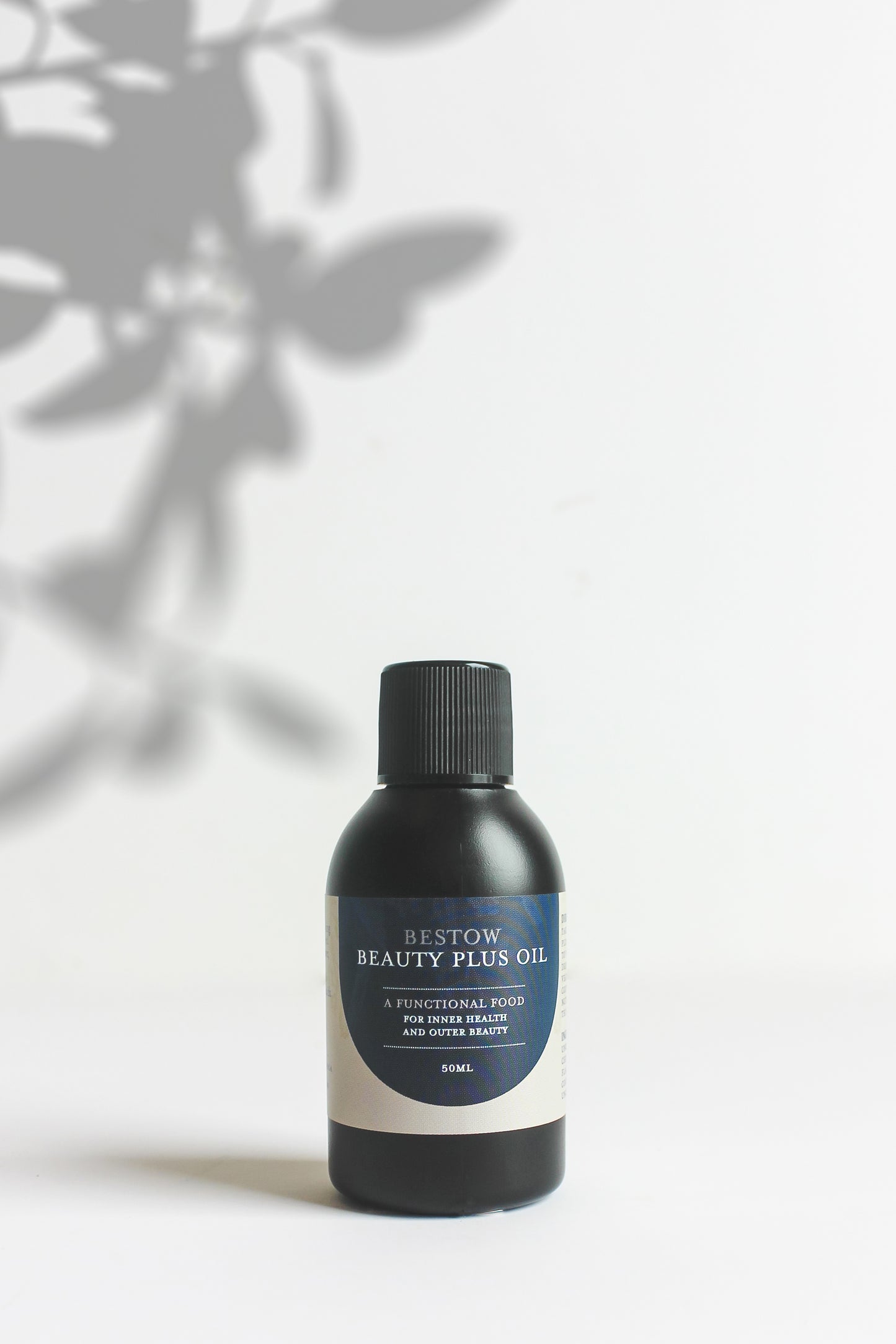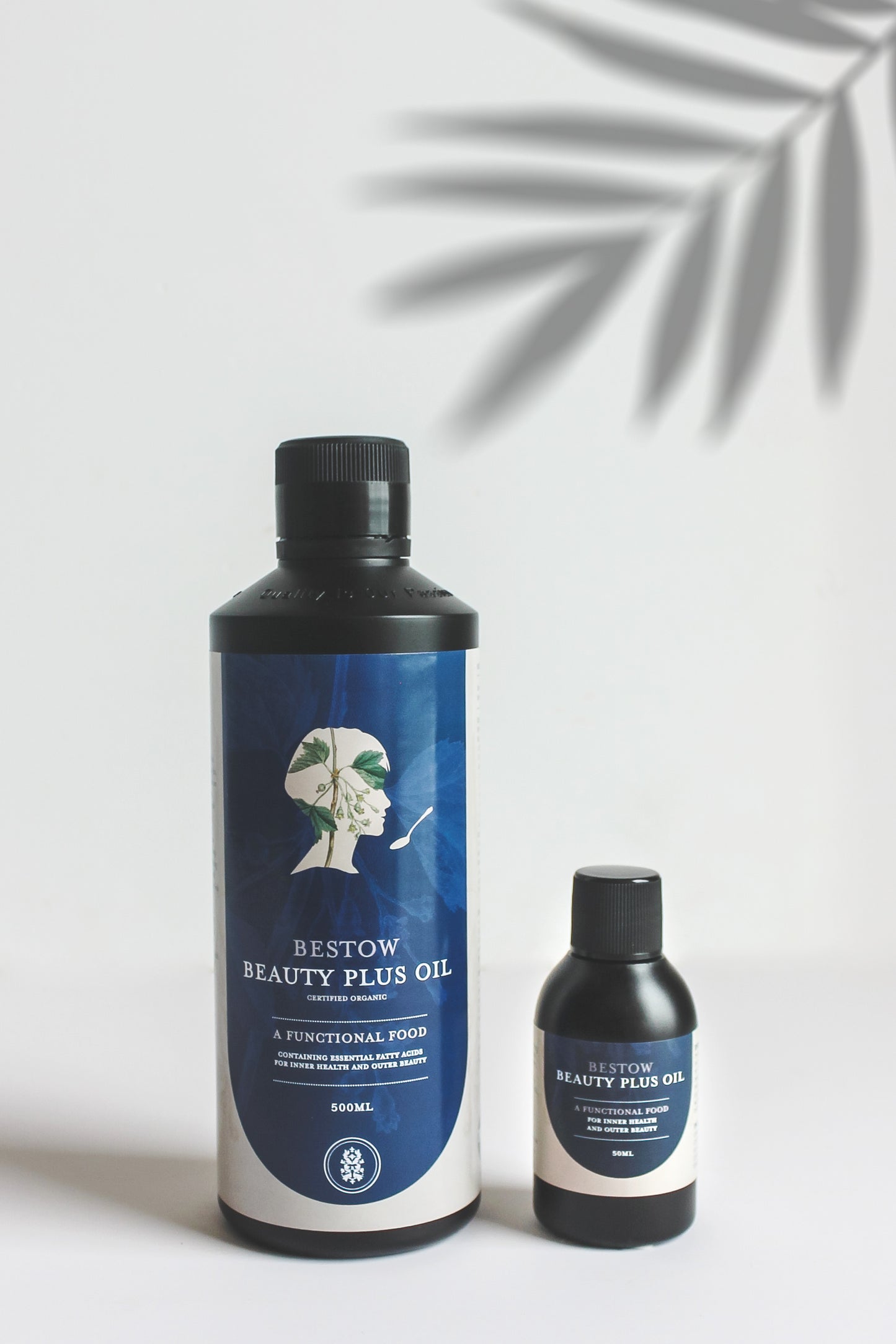 Who is this product for: Everyone seeking that coveted glow and well-hydrated skin! This oil is particularly beneficial for individuals dealing with skin concerns like acne, congestion, eczema, and other skin conditions. It is also perfect for those who love their Beauty Plus Oil and are going away for a few days and don't want to go without!
Bestow Beauty Plus Oil Sample
Discover the transformative power of Bestow Beauty Plus Oil 50ml Sample, a premium oil supplement meticulously crafted to bolster healthy skin from the inside out. This unique blend of organic, vegan, cold-pressed oils is specially formulated to deliver vital nutrients for nourished and radiant skin.
"Our bodies can't produce their own EFAs, so it's crucial to obtain them from our diet." - Janine Tait, Dermo-Nutritionist & Bestow Founder.
Made right here in Aotearoa, New Zealand, Bestow Beauty Plus Oil harnesses the potent properties of flaxseed, evening primrose, coconut, and sesame oils. These oils are abundant sources of essential fatty acids, vitamins, and antioxidants, essential for maintaining optimal skin health.
Incorporate Bestow Beauty Plus Oil 50ml Sample into your daily routine and experience the benefits of reduced inflammation, balanced oil production, and your journey towards clear, glowing skin! This oil suits all skin types, and its effectiveness is equivalent to around 8-14 capsules per tablespoon.
Enjoy the nourishing effects of Bestow Beauty Plus Oil as it hydrates and moisturizes your skin from within, bypassing blockages, and supporting your body to produce the essential fats it needs to thrive, leaving your skin feeling softer and more supple.
Elevate your skincare regimen and embrace the beauty that comes from nourishing your skin internally with Bestow Beauty Plus Oil 50ml Sample.
IMPORTANT INFORMATION:
How to take your Bestow Beauty Plus Oil:

Take one tablespoon of Bestow Beauty Plus Oil every day, mixed into food.

In a daily smoothie.
Mixed into yoghurt.
Used as a salad dressing.
Poured over cool food.
Is this product pregnancy safe?

We recommend taking Bestow Beauty Oil (the green Oil) whilst pregnant or breastfeeding. It is always our recommended best practice that you check with their own doctor or midwife before taking Bestow products.