Awaken your senses with Puritea. Let the golden glow of this nourishing blend illuminate your skin and energise your day!
Experience the revitalising power of Puritea, a 100% organic herbal tea blend crafted with turmeric, ginger, lemongrass, and cinnamon. This radiant golden brew supports your liver's natural purification processes, helping to reveal clearer and brighter skin.
Regular price
Sale price
$25.00 NZD
Unit price
per
Sale
Sold out
Share
View full details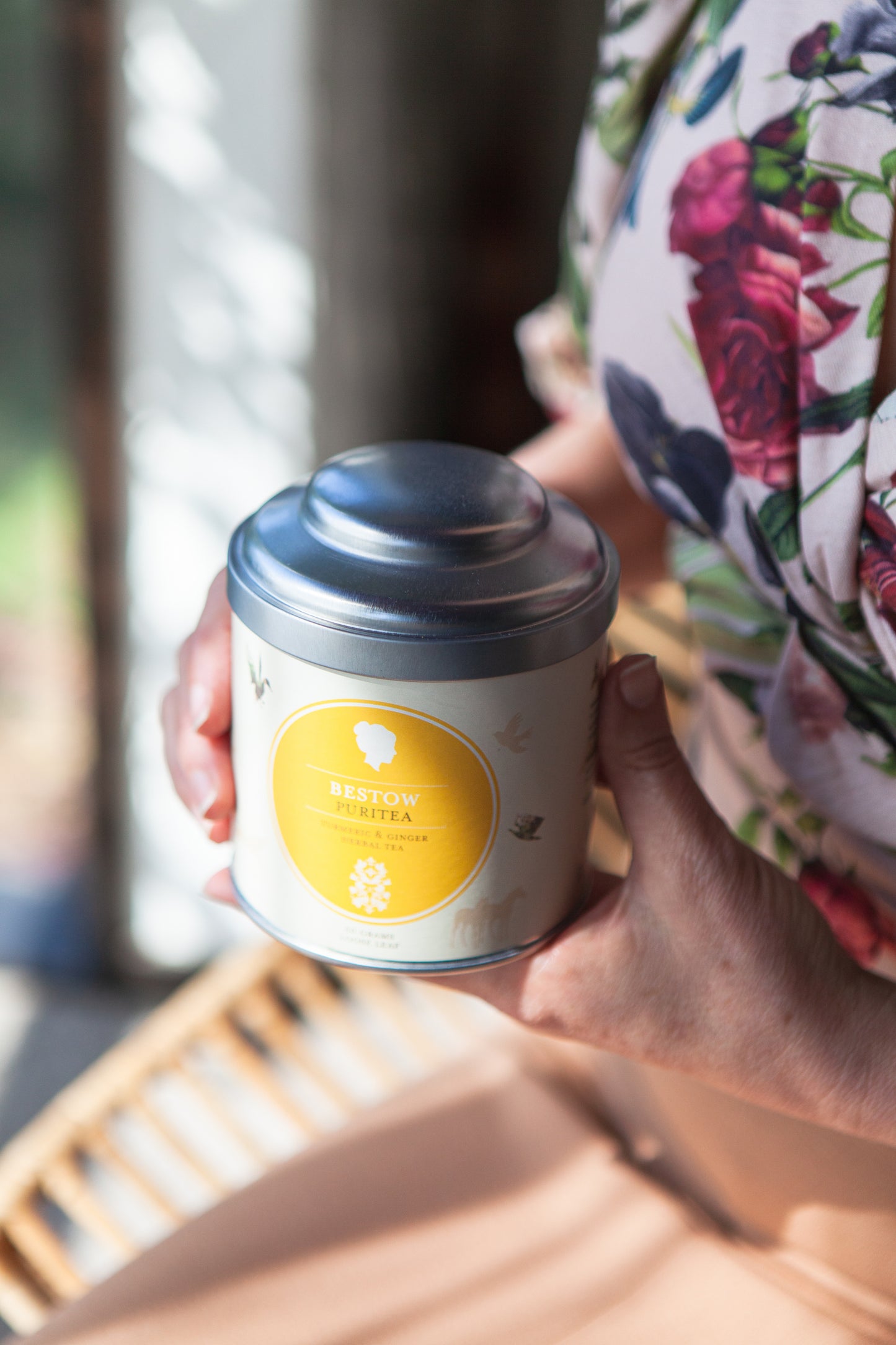 Flavour + Colour: Puritea boasts a bright, yellow color and a mellow, earthy taste complemented by a subtle lemongrass zing.
The Story Behind Our Teas
I used to have a strong coffee addiction, but I realised that it wasn't beneficial for my nervous system and overall well-being. Choosing to give up coffee was a wonderful gift I gave to my body, and I haven't looked back since.
Since then, I have been delighted to explore the therapeutic and vibrant world of herbal teas. Enjoying a simple tea break can provide a variety of benefits, such as an antioxidant boost, relaxation, body cleansing, or an energising lift—it all depends on the tea you choose.
At Bestow, we gather together each morning and afternoon to share herbal tea. It has become a beautiful ritual for us, complete with vintage china and a silver tray. This joyful pause in our busy day not only provides hydration but also delivers additional vitamins, minerals, and phytonutrients.
It was crucial for us to ensure that we were drinking high-quality organic tea, free from the pesticides and chemicals that can often be found in supermarket herbal teas. To achieve this, we decided to develop our own range of teas. Fortunately, we came across a Sri Lankan company with established organic tea plantations, where the passion for tea is even greater than ours! The tea plantation follows biodynamic practices, brimming with life and featuring organic cattle for compost, wild camphor in the hedgerows for organic spray, and the captivating scents of tea leaves, basil, and rosemary in the air.
- Janine
Puritea Organic, Herbal Tea
Puritea, the vibrant blend of turmeric, ginger, lemongrass, and cinnamon, brings a radiant burst of flavour and wellness to your daily routine. The golden infusion not only delights your taste buds but also supports your liver's natural purification processes, helping to clarify and revitalise your skin from within.
Turmeric, renowned for its powerful antioxidant properties, aids your liver in eliminating toxins, promoting clearer and brighter skin. Ginger, with its anti-inflammatory properties, helps lower blood sugar levels, contributing to skin health and vitality.
Start your day with this invigorating brew, letting its golden glow illuminate your skin and energise your spirit.