Bestow Collagen Boost powder slows down the visible signs of skin ageing. It boosts skin elasticity, plumps out wrinkles and promotes younger looking skin.
Bestow Collagen Boost is ideal for those looking to achieve a radiant, youthful complexion and support their skin's resilience and vitality. This carefully formulated collagen supplement reduces the appearance of fine lines and wrinkles, promotes skin elasticity, and improves skin hydration, nail strength and hair health.
Regular price
Sale price
$98.00 NZD
Unit price
per
Sale
Sold out
Dairy Free

All Bestow products are dairy-free (and vegan) unless stated otherwise. Bestow Collagen Boost Powder is made from fresh-water fish, Bass so is not vegan.
Gluten Free

All Bestow products are gluten free.
Nut Free

All Bestow products are nut-free, unless stated otherwise. Bestow Gut Love + contains Almonds.
Made in NZ

Bestow is a natural range of organic skin nutrition boosters formulated by New Zealand's leading dermo-nutritionist, Janine Tait. Each product is carefully created right here in Aotearoa, New Zealand.
Share
View full details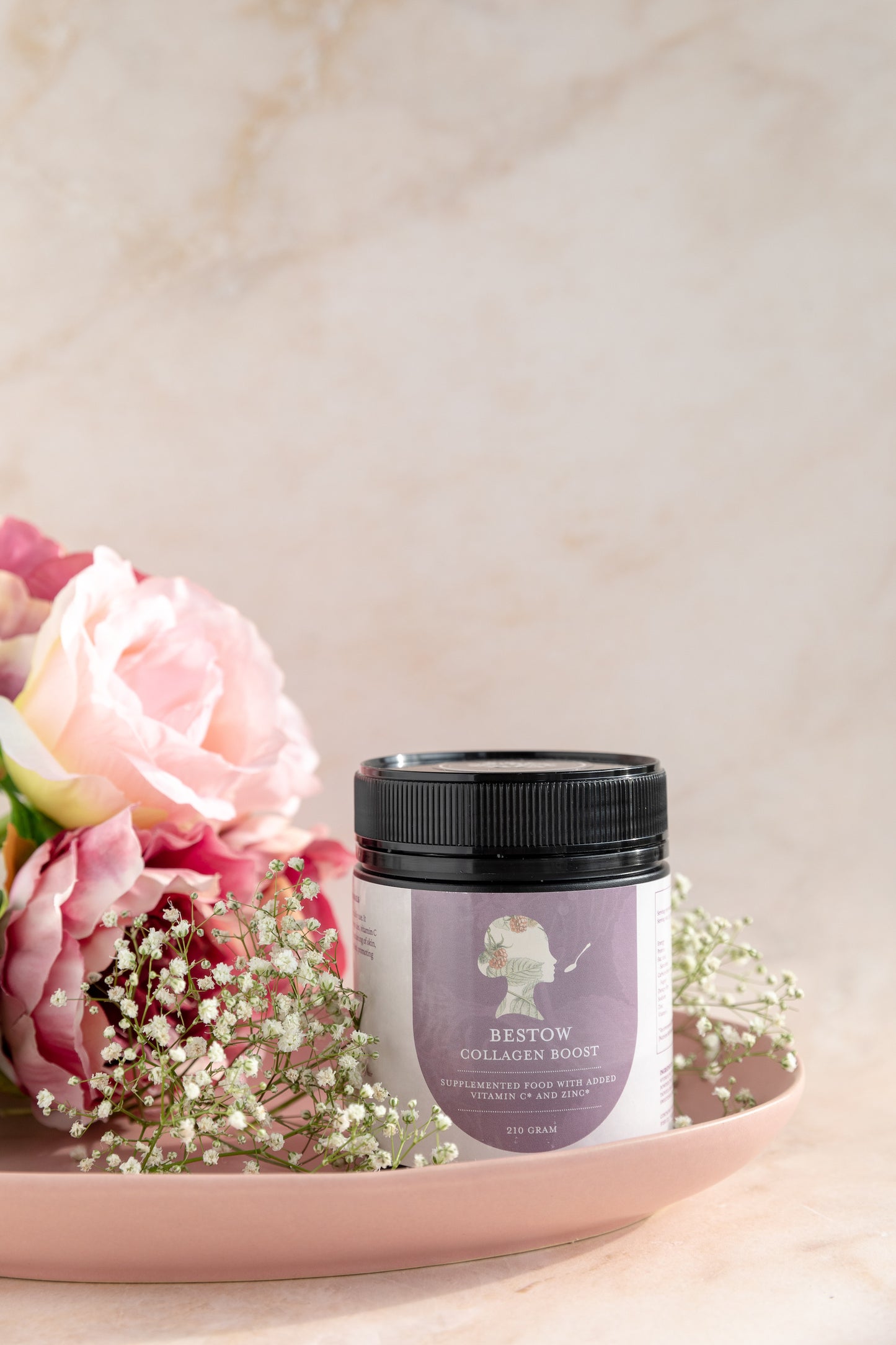 Who is this product for: It is beneficial for everyone. Collagen production begins to decline in our mid-20s, drops dramatically when we reach 30 and dips again at menopause. Bestow Collagen Boost helps to offset the decline and slow the rate of ageing. This product contains fish. People who have a seafood allergy should seek medical advice before taking this product.
Bestow Collagen Boost
Bestow Collagen Boost is a premium collagen powder formulated to nourish your skin from within, providing the key building blocks for a youthful complexion. What sets this collagen supplement apart is its unique low molecular weight, making it highly bioavailable and easily absorbed by the body (With as low as 1,000 Daltons* Bestow Collagen Boost is New Zealand's most bioavailable collagen.)
Sourced from sustainably formed freshwater fish (Basa), Bestow Collagen Boost offers superior quality collagen compared to marine sources. The freshwater fish collagen provides essential amino acids, supporting skin elasticity, hydration, and overall skin health.
The Freshwater Collagen Advantage
- Sustainable, eco-friendly collagen source.
-Offers superior bioavailability compared with beef and pork collagen.
- Is free of heavy-metals and contaminants found in marine collagen.
- Has a collagen profile that is closely aligned with the collagen found in human skin.
Bestow Collagen Boost also contains zinc and vitamin C. Zinc is known for its role in promoting collagen synthesis, while vitamin C supports the body's natural collagen production and provides antioxidant protection. Your skin literally can't make collagen without zinc and most people in New Zealand are zinc deficient. Bestow Collagen Boost contains 6gms of zinc per serving, which provides 80% of your RDI. You'll also get over double your daily Vitamin C requirement in each serve!
Bestow Collagen Boost is free from fillers and additives with a subtle real raspberry taste and sweetness from monk fruit, ensuring you receive pure and potent collagen to optimise your skin's natural radiance. With its low molecular weight and premium formulation, Bestow Collagen Boost is the ideal choice to support your skin's firmness, suppleness, and youthfulness.
IMPORTANT INFORMATION:
How to take your Bestow Collagen Boost Powder:

Take one level measuring tablespoon of Bestow Collagen Boost powder daily. You can mix it into water or add it to smoothies. Do not add it to coffee, hot drinks or foods.
Allergen information:

People who have a seafood allergy should seek medical advice before taking this product.
Is this product pregnancy safe?

If you are pregnant or breastfeeding, we also recommend you check with your health professional.