Experience the art of tea brewing with the Bestow Teapot. Elevate your tea moments with style, sophistication, and unparalleled flavour!
Enhance your tea-drinking experience with the Bestow Teapot, the perfect companion for your Bestow Organic Herbal Teas. Beautifully crafted from glass and stainless steel, this teapot elevates your tea rituals to new levels of elegance and functionality.
Regular price
Sale price
$65.00 NZD
Unit price
per
Sale
Sold out
Share
View full details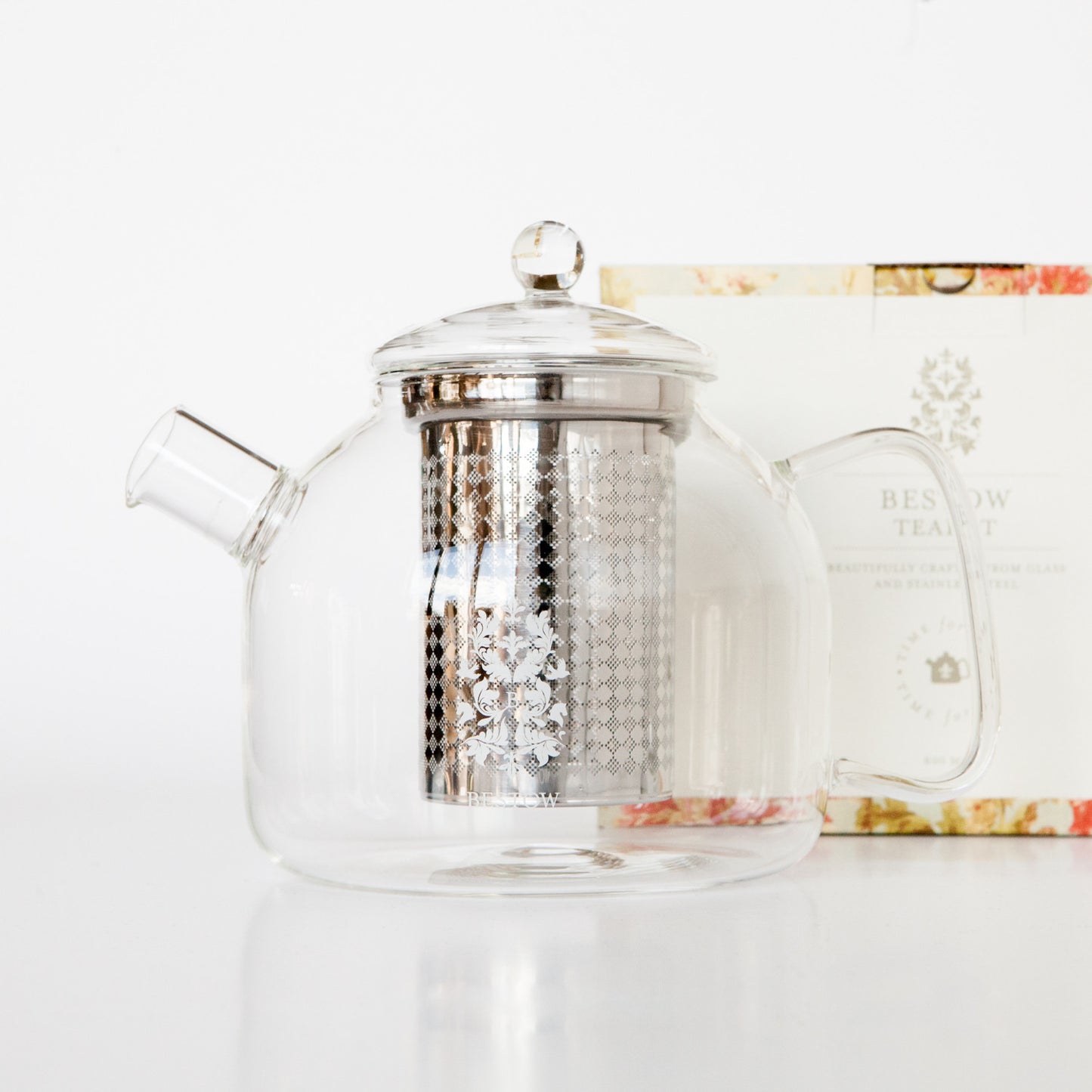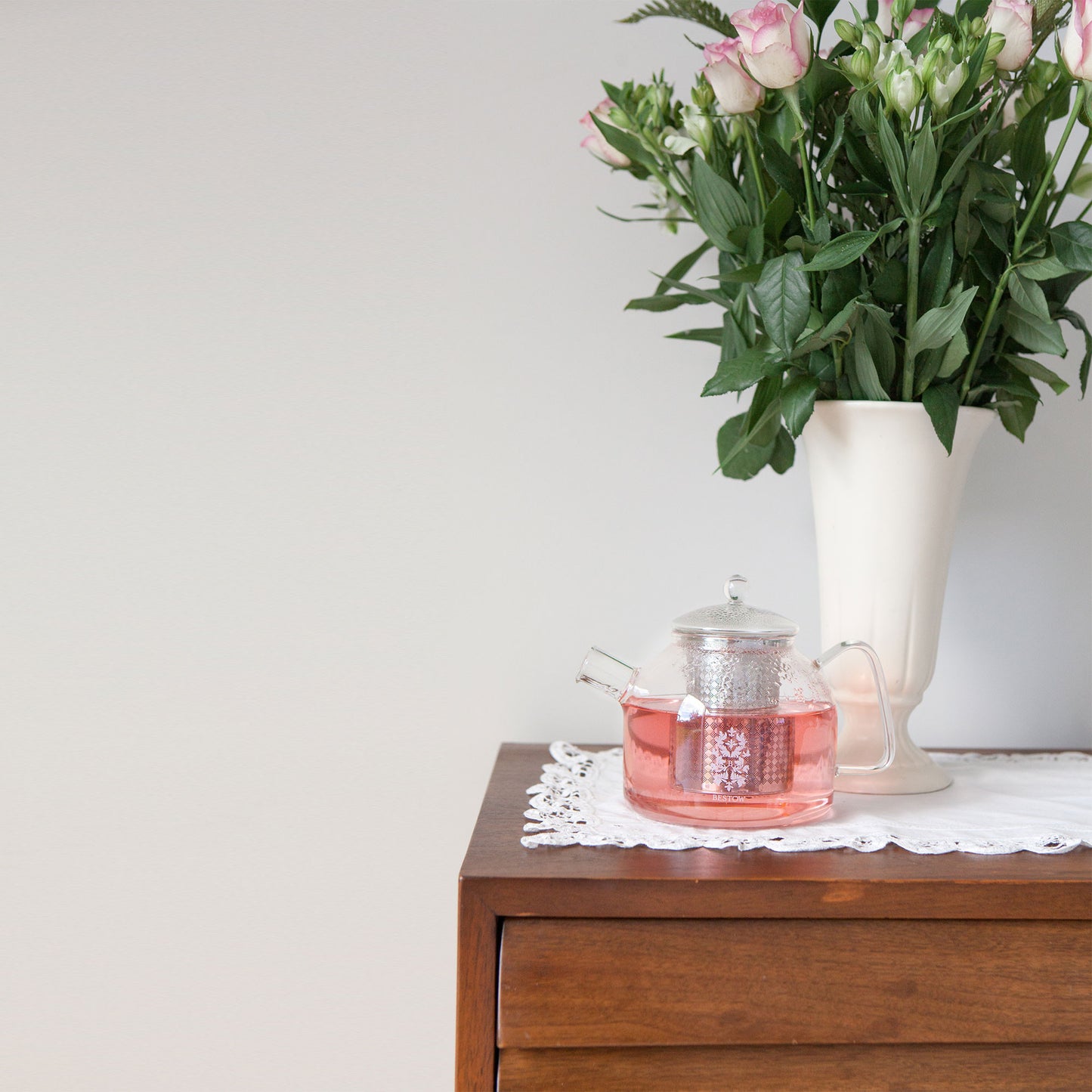 Who is it for: The Bestow Teapot is designed for tea enthusiasts who appreciate the ritual of brewing and savouring their favorite Bestow Organic Herbal Teas. Whether you're a tea connoisseur or simply seeking a stylish teapot for everyday enjoyment, this exquisite teapot is your go-to companion.
Bestow Tea Pot
Unleash the true essence of tea with the Bestow Teapot, an elegant and functional vessel that perfectly complements our Bestow Organic Herbal Tea Range. Crafted with precision from glass and stainless steel, this teapot enhances your tea-drinking experience, creating a harmonious blend of style and flavor.
Designed for tea lovers who value the art of brewing, the Bestow Teapot offers a graceful and sophisticated way to indulge in your favourite Bestow Organic Herbal Teas. The transparent glass body allows you to witness the infusion process, observing the vibrant colors and enticing aromas that unfold with each steep.
The stainless steel infuser ensures optimal brewing by allowing the tea leaves to unfurl and release their full flavour, while preventing unwanted residue in your cup. With its generous capacity, the teapot accommodates multiple servings, making it ideal for sharing moments of tea enjoyment with friends and loved ones.
Whether you're starting your day with a rejuvenating cup of Puritea, indulging in the tangy delight of Eternitea, or immersing yourself in the sisterhood spirit with Generositea, the Bestow Teapot sets the stage for an extraordinary tea experience.
Elevate your tea moments to new heights of style, sophistication, and unparalleled flavour with the Bestow Teapot. Let this exquisite teapot be your companion as you immerse yourself in the sensory delight of brewing and savoring Bestow's organic herbal teas.
The Story Behind Our Teas
I used to have a strong coffee addiction, but I realised that it wasn't beneficial for my nervous system and overall well-being. Choosing to give up coffee was a wonderful gift I gave to my body, and I haven't looked back since.
Since then, I have been delighted to explore the therapeutic and vibrant world of herbal teas. Enjoying a simple tea break can provide a variety of benefits, such as an antioxidant boost, relaxation, body cleansing, or an energising lift—it all depends on the tea you choose.
At Bestow, we gather together each morning and afternoon to share herbal tea. It has become a beautiful ritual for us, complete with vintage china and a silver tray. This joyful pause in our busy day not only provides hydration but also delivers additional vitamins, minerals, and phytonutrients.
It was crucial for us to ensure that we were drinking high-quality organic tea, free from the pesticides and chemicals that can often be found in supermarket herbal teas. To achieve this, we decided to develop our own range of teas. Fortunately, we came across a Sri Lankan company with established organic tea plantations, where the passion for tea is even greater than ours! The tea plantation follows biodynamic practices, brimming with life and featuring organic cattle for compost, wild camphor in the hedgerows for organic spray, and the captivating scents of tea leaves, basil, and rosemary in the air.
- Janine